wendelah1
First, let me wish a Happy Birthday to Fox William Mulder who turned 53 today.
In honor of his birthday, my Top Five Mulder Moments from Season Two.
5. The climatic scene from "Blood." After racing to the top of the clock tower where the crazed postal worker, Edward Funsch, has been firing rounds down into the crowd, Mulder disarms and takes him into custody without having to resort to violence himself. Mulder accomplishes this by reminding Funsch that if he shoots Mulder there will be a lot of blood.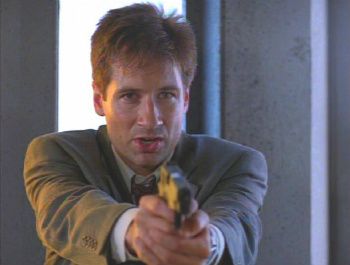 ( Four More Mulder Moments )
What are your favorite Mulder moments--any season, any episode?
The re-watch resumes tomorrow with "Aubrey."