wendelah1 posting in

xf_is_love
"I probably wouldn't get an argument from even the most devoted X-Files fans if I pointed out that flukemen weren't likely to ever peek out of your toilet." — Anne Simon, PhD,
The Real Science Behind The X-Files
I wouldn't be too sure about that, Anne, but you certainly won't get any argument from me. This Monster-of-the-Week episode stars Truculent Mulder, Chipmunk Cheeks Scully, and Stoic A.D. Skinner, with a special appearance by Darin Morgan as the Flukeman. "The Host" is also our first meeting with Mulder's new FBI informant, "X."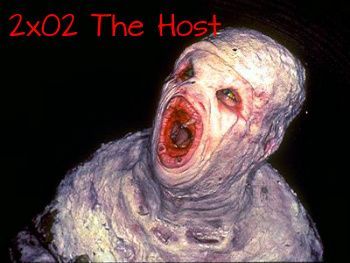 Writer: Chris Carter
Director: Daniel Sackheim
Originally aired: September 23, 1994
Synopsis:
Mulder is pulled off wiretap duty by A.D. Skinner and sent to investigate a dead body that turned up in the New Jersey sewer system. Scully gets involved when she requests to do the autopsy. Rather than "the simple drugland body dump" that Mulder assume it to be, the case turns out be a genuine X-File.
Most Memorable Quote:
Scully: Flatworms are what are known as obligate endoparasites. They live inside of the host entering the body through ingestion of larvae or eggs. They are not creatures that go around attacking people.
Mulder: That's good. I didn't wanna tell Skinner his murder suspect was a giant bloodsucking worm.
And its follow-up:
Scully: Mulder, this is amazing! [looking at the flukeman] Its vestigial features seem parasitic, but it has primate physiology. Where the hell did it come from?
Mulder: I don't know. But it looks like I'm gonna have to tell Skinner that his suspect is a giant bloodsucking worm after all.
Links:
Transcript
. We are so lucky to have this site.
Sarah Stegall
Red Wolf's Episode Guide
Fanfiction:
That's always the question, isn't it?
The Repeat Customer
by aka "Jake" was written for Fandomonium's Virtual Season of Smut. It's not
that
smutty, and it is a genuine post-ep, one of the few. It will likely offend some fans, so read it at your own risk.