wendelah1 posting in

xf_is_love
This is a hard question for me. When you love a character the way I love Scully, the temptation is to throw up my hands and say all of them. Because it's true: I love every minute of
The X-Files
—when she's on screen. With Mulder, without Mulder—it really doesn't matter. I have a Tumblr tag that sums it up pretty well: #Her Everything.
But if I am forced to choose, the moments I appreciate most are when she gets to use her scientific knowledge to solve cases and save lives. I love Scientist Scully and Investigator Scully and Skeptical Scully. Okay, Kickass Scully is good, too. However, I have to be honest: the episodes of
The X-Files
that I love best are those where scientific rationalism wins the day. I only wish 1013 had seen fit to provide a few more of them.


screencaps by tree
My favorite Scully moment of all time is near the conclusion of "End Game," which comes full circle to the beginning of the episode. Mulder has been brought into the Emergency Room suffering from what the ER doctor thinks is hypothermia. Scully knows better. In fact, Mulder has been infected with a retro-virus that has caused his blood to turn into sludge. He's going to die unless they listen to her and use her treatment protocol--so she makes them listen to her. Where someone's life is at stake, she's a force to be reckoned with. When it's Mulder's life, she won't take no for an answer.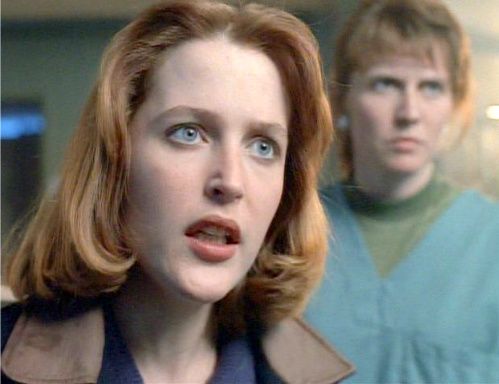 SCULLY: You've got to listen to me! If you keep him in there, you're going to kill him! The cold is the only thing that's keeping him alive.
And against all odds, she saves him. Maybe I shouldn't have been as worried as I was since Mulder is a main character--but I'd come from a fandom that killed off main characters pretty regularly.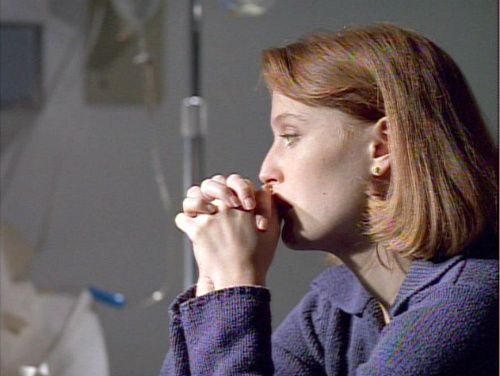 Near the end, we see Mulder in a hospital bed hooked up to the equipment, tubes running everywhere. He is still quite ill. Scully is at his side. We hear this as a voice-over.
Transfusions and an aggressive treatment with anti-viral agents have resulted in a steady but gradual improvement in Agent Mulder's condition. Blood tests have confirmed his exposure to the still unidentified retrovirus whose origin remains a mystery. The search team that found Agent Mulder has located neither the missing submarine nor the man he was looking for.

Several aspects of this case remain unexplained, suggesting the possibility of paranormal phenomena, but I am convinced that to accept such conclusions is to abandon all hope of understanding the scientific events behind them. Many of the things I have seen have challenged my faith and my belief in an ordered universe...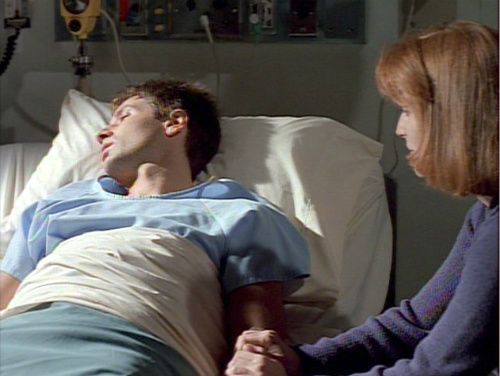 Time has passed. Though Scully remains close at hand, the tubes and machines have vanished. Mulder is getting better. The voice-over continues.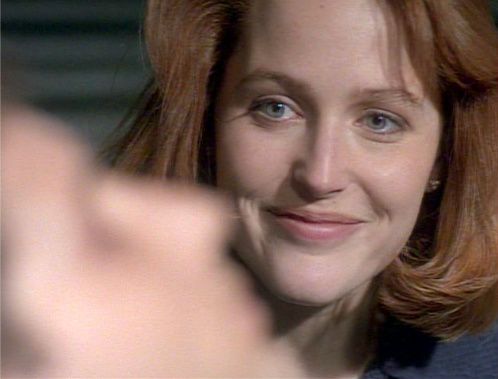 ...but this uncertainty has only strengthened my need to know, to understand, to apply reason to those things which seem to defy it. It was science that isolated the retrovirus Agent Mulder was exposed to, and science that allowed us to understand its behavior. And ultimately, it was science that saved Agent Mulder's life.
SCIENCE WINS!
What's your favorite Scully moment or episode?
The re-watch resumes tomorrow with "One Breath."