wendelah1
This week's schedule is packed with excitement. We finish up seasons four and five, and

ruuger
takes the reins beginning with season six.
September 24: 4x23 Demons
September 26: 5x12 Bad Blood
September 28: 5x13 Patient X; 5x14 The Red and the Black
September 29: 6x03 Dreamland I; 6x04 Dreamland II
Everyone, every Phile, has one episode that they can't get out of their head. "Demons" is mine. On the face of it, I should hate it, for the same reasons I dislike "Paper Hearts." It features a version of Mulder I find particularly distasteful: he's self-centered, reckless, obsessed to the point of self-destruction. He gets a hole drilled into his head. Twice.
But the cinematography is amazing, the glimpses we see of Teena Mulder, Bill Mulder and CJ Spender—whether true or not, filtered as they are through Mulder's hallucinations—are enthralling.
And Scully. Is. Amazing. She takes control, her forensic science and keen observations solve what turns out to be a murder/suicide. Most importantly, without belittling his needs or his convictions in any way, she refuses to let Mulder succumb to his dark visions. She saves him.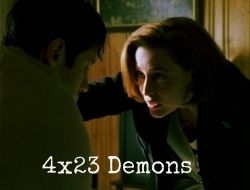 Writer: R.W. Goodwin
Director: Kim Manners
Originally aired: May 11, 1997
Synopsis:
Mulder wakes up in a Rhode Island motel room, his shirt covered in blood, with no memory of what happened. He's having seizures that include vivid visual hallucinations of what he believes are repressed memories from his childhood. Two people have been murdered with his weapon, and he's the prime suspect. After he's jailed, Scully investigates the murders and tries to find out what happened to Mulder.
Most Memorable Quotes:
I couldn't pick just one.
MULDER: I had those people's blood on shirt, Scully. I was missing for two days. I have no recollection of my actions during those two days. There were two rounds discharged from my gun. I had the keys to this house, the keys to their car. Do the words "Orenthal James Simpson" mean anything to you?
SCULLY: Are you going to shoot me, Mulder? Is that how much this means to you? Mulder, listen to me. You have been given a powerful hallucinogen. You don't know that these memories are yours. This is not the way to the truth, Mulder. You've got to trust me.
Links:
I did mention that I've thought about this episode a lot.
Episode transcript
Autumn Tysko's review
Sarah Stegall's review
Zack Handlen's review at the AV Club
Is Samantha Mulder Just a Symbol
by

emily_shore
.
Only Connect: Scully and Season Four
Part One
|
Part Two
by

emily_shore
Looking for Mom, Looking for Dad
by Fialka.
Fanworks:
Spoilers section at Gossamer
: some recs (you'll have to scroll): "Things Without Remedy" by Kel, and also "Hollow Day," but you'll find it on her page; "Theory and Practice" by Nascent; "Incident at Quonochontaug" by Dryad; "Another Swim" by Joan Humby; "Between Slate and Glass" by Rachel Howard.
Acadia
by

rivkat
.
Requiem for a Dream
, a old Fanvid for "Demons."