wendelah1
With only two weeks to go before the start of The X-Files is Love Month, we still have
six
one day
s
available to claim. If you haven't already, please put out the word to fellow X-Philes everywhere about the fest. Go here for
the signup post
. Go here
for more banners
.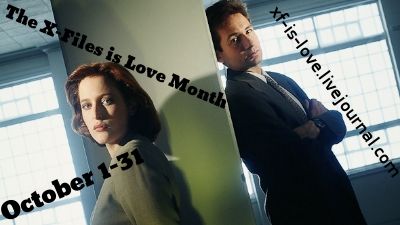 xf_is_love
The X-Files is Love Month - October 1-31

Onward. Since the majority wanted to re-watch season two, that's just what we're going to do. Like last year, the posts will go up at one minute past midnight PST because that time works for the mods. If this isn't a great time for your timezone, remember, this isn't a live rewatch. That being said, if anyone wants to try to do a live watch with me, PM me. We'll work it out!
Damn those time zones anyway! Why can't we all move to a fangirl commune? But I digress... This year Ruuger and I are alternating days, except for when we don't.
( to the rewatch schedule )
About that Scary Episodes tbd on the 31st. We thought we'd let the community decide on the episodes for Halloween night. Leave each episode suggestion in a comment, along with your reason why it rocks, the better to influence other voters, formatted as follows:


wendelah1
Season 1: Space
Why this should be watched: What's not to love? Astronauts! Psychotic Space Monsters! A government cover-up!
Okay, so one vote for Space.
If, like me, you think we should watch Space, comment on my comment to cast your vote.


her_new_day
Awesome idea! I
love
Space.
That makes two votes for Space.
Yes, the movies are eligible. Any other questions? Have fun.